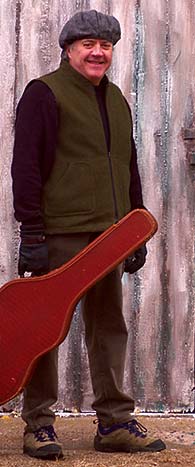 About Mike
Mike Quick was born in northwest central Wisconsin, a place of rolling wooded hills, rivers and lakes and dramatic weather and seasonal changes. He grew up geographically within a few hours of the Mississippi River to the west, the Great Lakes to the East, and Canada to the north. He lived for several years in southern California, then worked in various towns around the country before eventually returning to Wisconsin, where he lives today.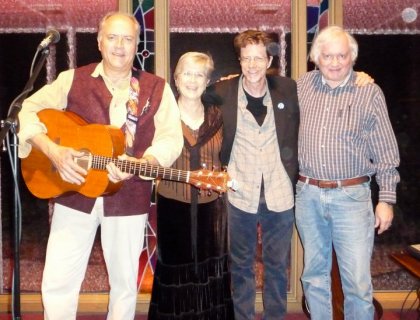 Left to right: Mike Quick, Blair Hull, Michael Bonesteel, Gary Hagen
at The Stained Glass Coffeehouse, October 16, 2010
Mike grew up listening to Elvis, the Drifters, Sam Cooke, The Beatles and Rolling Stones as well as George Jones and Merle Haggard, and enjoying just about any kind of music. As a singer-songwriter, he began performing back in the 1970's during the latter part of the folk music revival that had been jump-started by groups such as The Kingston Trio, Peter Paul and Mary, and Bob Dylan.
Some of his most profound musical influences were early bluesmen like Charlie Patton, Skip James, Leadbelly, Mississippi John Hurt and the reverend Gary Davis; and jazz players like Bill Evans, Miles Davis, Jim Hall and John Coltrane. He loved Duke Ellington, Count Basie, and Fats Waller and great female vocalists like Billie Holiday, Peggy Lee, Nina Simone, and Lena Horne. To this day, Ella Fitzgerald raises hairs on the back of his neck when he listens to her singing "Love For Sale". These legendary performers opened up whole new worlds to someone growing up in a rural and somewhat cloistered part of Wisconsin.
Contemporary songwriters who have made a lasting impression on Mike include Jack Tempchin, Will Jennings, Warren Zevon, John Prine, Steve Goodman, Tom Paxton, Tom Waits and of course, Bob Dylan.
Mike has been performing and writing music for over 30 years in a variety of venues and places around the country. His original music has been played nationally and internationally, on Public Radio stations, and on the RFD Cable television network.
Mike's songs can be heard on three cds to date, and he is in the process of completing a new recording with producers Michael Jerling and Tony Markellis.
Mike is a member of the U.S. Capitol Page Alumni Association and, in his spare time, is a mentor who assists individuals with disabilities who want to start their own businesses.